*This post may contain affiliate links. If you click on any link and make a purchase, we may receive a small commission at no cost to you.
Blogging isn't easy! In fact, it's one of the most complicated, yet rewarding things that I've ever done. And since Truly Madly Sassy turned 1 on December 30th (and since I was on a much needed holiday break when it happened),  I wanted to share with you what I've learned during this first year. So, if you're a new blogger, listen up!
Content, content, content.
Content is important. Way important. Like WAY! If it resonates, people will read it! Quality content is always better than mediocre content, so keep that in mind. You readers can always tell when you've fudged your way through a blog, so make sure what you have to offer them is something worth reading. 
Just be YOU.
Being open and honest about your experiences is what your readers are looking for. Give them that. I can't tell you how many women have contacted me over the last year to say, "Hey, that blog–I could totally relate!" You don't have to tell every little secret you have, you just have to be YOU! It's that whole 'build it and they will come' thing.
Writer's block is real.
Sometimes, as bloggers, we have nothing to write about, so guest posts come in super handy! Utilize that whenever you can. Luckily, I have a lot of close friends who are writers that never mind to fill in for me. Not to mention, sometimes our readers like something fresh and different. 
Hobby? Did you say HOBBY?!
It's not a hobby, it's a full-time job. As a writer, you are our own editor, your own photographer, your own web designer, your own social media manager, and your own graphic artist. Not only that, I'm pretty sure I left something out! Maybe even ten somethings! A blog is a LOT of work! Be ready to put the time into it. 
Networking is vital.
Building relationships with other bloggers is an amazing thing and there's an opportunity to learn a lot from them. Embrace that and ask questions! I've made some really awesome connections just by networking with other writers. I even found my social media manager through another blogger that I follow.  (Suzanne, you've made my life so much easier, thank you!).
Interaction matters.
Interact with your readers! They took the time to read your post and respond to it, so answer every comment with a thoughtful response. I typically don't approve comments until I know I can respond to each one. Occasionally, I might have to put it off for a few hours, but I don't like to! My readers were interested in what I had to say, so I want to make sure that I'm always coming from a place of gratefulness and let them know that I appreciate them. 
Be transparent.
Give your readers a glimpse into your everyday life. It's what helps them see your humanness and it shows them who you are. They love that, and they want to be able to connect and relate to you. Your story doesn't just heal you–it also has the capacity to heal others as well. 
Time…there's never enough of it!
Writing takes a lot of time. Every blogger spends at least  3-5 hours on each piece they publish. It takes an enormous amount of effort to find just the right stock photo, resize it, proofread the post, and get everything just right. There is a lot of dotting every 'i' and crossing every 't' going on behind the scenes. 
Rambling. Rambling is not allowed.
Sometimes, less is more. I know this from my own long-windedness! If your post is particularly long, it's a good idea to break up the text with photos or quotes just to give the reader a reprieve from all the wordiness. I totally feel like I should shut up now…ha!
Social media counts.
Honestly, social media is your very best friend when it comes to promoting yourself. Join blogging groups. Pin your latest post to a group board on Pinterest. Tweet your little heart out! Look into platforms you don't know much about and see if they will work for the kind of material you publish: Flipboard, Medium, Tumblr, Stumble Upon…Just. Do. It.
Those ideas…they come out of nowhere!
Keep a notebook handy so that you can write down ideas for future blogs. As my friend Misty says, be a gypsy with it! This particularly comes in handy when you don't have the motivation to write. I have a running list of ideas on my phone as well as small notepad in my purse. 
What's in a title? EVERYTHING!
Catchy titles are the key to pulling your readers in. Use analogies, keywords, whatever it takes. The whole idea is to draw people into your post. Mind you, it's difficult to come up with something fun and off the cuff sometimes, but allow yourself to just be creative with it and see where it goes. 
Not everything you write will make the cut.
You'll write blogs you will never publish because sometimes, things just don't fit. It's fine. Let it go. For instance, I have at least 5 in my drafts folder that will never see the light of day. It is what it is. Sometimes those ideas just don't come to fruition. Save it for another day. 
Grammar.
Pay attention to your grammar! If words are misspelled, your blog isn't going to look nearly as good as it could look. Grammarly is a fantastic app that I use to double check everything and there's a free version if you don't want to buy the premium subscription. I recently switched to the premium package because I've found that it catches a lot more grammatical mistakes than the free one, but any version is better than none! 
Be consistent!
Finally, make sure you publish at the same time every week. Your readers have come to expect your predictability. If there's going to be a change in when you publish a post, or if you're taking a break for an extended period of time, make sure your readers know so they don't think you've dropped off into never-never-blog-again-land.
This first year has been nothing short of oh-mazing. Never, ever did I think Truly  Madly Sassy would be as successful as it is and I know that it's a team effort because the blog wouldn't exist without all of you! Thank you for making it so easy to write for you. It is not lost on me that we've done it together. Here's to a productive second year! I can't wait to see what we do next!
I'd love to hear what you have learned during your own blogging journey!
Please feel free to comment below!
Want to try Grammarly? Please click the affiliate link* below: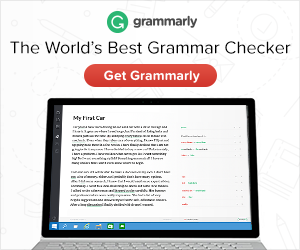 *This is an affiliate link.
What that means is if you click the link above and subscribe to Grammarly via said link, we may receive a small commission at absolutely no cost to you. The commission in question has no effect on the price you pay for the item and we only promote companies or services that we use ourselves.  
Truly Madly Sassy is a participant in the Amazon Services LLC Associates Program, an affiliate advertising program designed to provide a means for us to earn fees by linking to Amazon.com and affiliated sites. To learn more, visit the disclosure page.